How To Play Minesweeper
Welcome to Minesweeper. This guide will help you in completing your first game.
Some terms:
Flag: Put a flag in a zone when you have confirmed that there is a mine.
Smiley face:Click it if you want to reset the game.
Now that you know the terms so let's get sweeping!
Step 1: Finding your first mine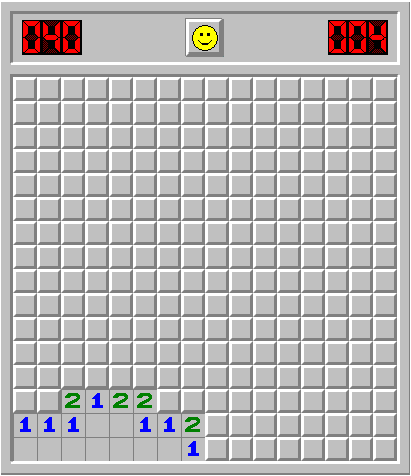 You can start by clicking at any random place since it is your first game. Remember, the number is the mines adjacent to the block. Flag a mine by right clicking. If a block with 2 has only two unopened mines flag the unopened ones and same for other numbers.
Step 2: Clearing the other
Its time to clean up the other blocks.
Step 3: Making the right guess
You'll often come across a situation where you have to make a guess. But most of them which (seem to) require a guess comes when the game is about to finish. So the best thing to do is to open the block which is not common to both like the blocks marked with orange on the image and you'll be able to find the mine.
Step 4: Congratulations, you win!